OSMOTHERLEY WALKING SHOP
Click here to see a map of our location or here for Osmotherley.
Chris Gaunt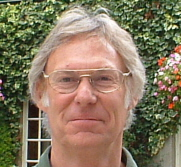 Chris has been in the "walking" business for over 30 years. At one time owning shops at Norwich, Colchester and Luton. He moved to Osmotherley in 1999 for a more relaxed lifestyle.
In 2000 he opened the Osmotherley Walking Shop and now he is as busy as ever as the shop has gone from strength to strength.
Chris has travelled, trekked and climbed all over the world but still loves Yorkshire, The Lakes and Scotland the best.
Chris really enjoys the personal contact with customers and is always pleased to give advice.
Gail Fiske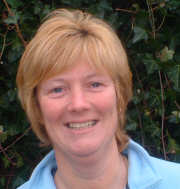 Gail has been with us since 2000 and manages the shop when Chris is away.
Extremely capable and dynamic (Chris calls her Gailforce) with a bubbly personality she is well liked by our regular customers.
Married with a teenage daughter she enjoys walking, exercising her dogs and caravanning.
Like Chris she likes the personal contact with people and nothing is too much trouble for her as many customers will testify.
Would you like a sunshine holiday? Gail has a holiday apartment in Formentera.
Maureen Eyre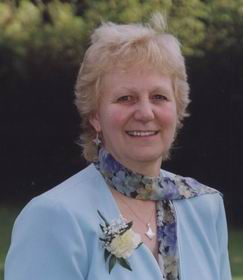 Maureen is our computer expert and is instrumental in dragging Chris into the world of I.T. No mean feat when he would really rather be on the hills.
Maureen leads a very busy life but will always step in to help in the shop or any other aspect of the business.
She is one of our several part time staff but is indispensable for her cheerful personality and computing skills.
Kunie Gaunt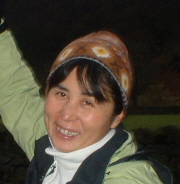 Kunie moved to the UK from Japan in 2000, living and working at The Findhorn Foundation in Scotland until moving to Osmotherley.
Kunie is a Ki Kou healing practitioner and had her own clinic in Japan.
She has developed a keen interest in walking and last summer completed The Cleveland Way and Coast to Coast long distance footpaths.
Kunie helps with administration and the shop and is starting her Ki Kou practice again. She is also running meditation workshops at Ruswarp Hall, near Whitby. If you are interested go to www.wellness-hst.co.uk
Mike Myers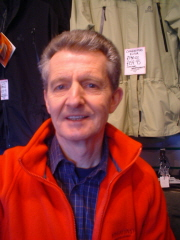 Mike, who recently retired from a career in banking, works in the shop and helps with the administration.
Married with two daughters and four grandchildren, Mike is a keen walker along with many other interests.
Mike loves the "great outdoors", and is now actively leading group walks in the North Yorks Moors and the Yorkshire Dales.
Mike is well liked by customers for his friendly, knowledgeable advice, founded on a lifetimes experience in the customer service sector.
A happy customer shows his appreciation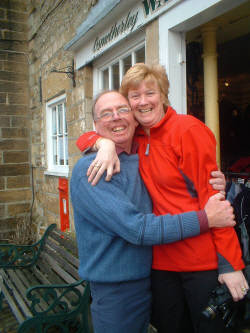 A happy customer shows his appreciation.
Alan Woof. Customer, really nice bloke and landlord of the nearby Queen Catherine Hotel which he runs with his son Robert and staff. You can stay there when in Osmotherley.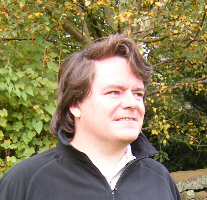 John Rickard is our web site designer.